WELCOME TO SEVENOAKS INDOOR BOWLS CLUB
GOOD NEWS
As from 12 April government restrictions will be eased and Sevenoaks Indoor Bowls Club will at last be allowed to re-open, but only for limited bowling activities.  We intend therefore to open again for 3 mornings a week (Wednesday, Thursday and Friday) commencing Wednesday 14 April from 9.00 to 13.00.   Rinks will be available to book only by individuals or co-habiting partners at a cost of £2.00 per hour per person.  No mixing of households can be permitted.  Members can book in advance by telephoning Sally, on her mobile 07788 738831 between 2.00pm and 5.00pm Monday to Friday.
Under present restrictions no food or drink will be available and no socialising will be permitted.  Everyone will be expected to wear a mask until they play whilst all must sign in and out to enable track and trace.  The changing rooms will remain out of bounds but, until 17 May, players will be allowed to wear smart casual clothes.
It is hoped that when restrictions are eased further on 17 May we will be able to resume near normal activities with roll-ups, internal leagues and competitions as well as social events.  Further details will be provided nearer the time.
 We are of course aware that you have paid a membership fee for the current year but have had no, or very little, opportunity to play bowls.  Membership fees for the next year, from 1 October, will be adjusted accordingly and you will be advised in due course.
We very much look forward to seeing you all again.
The Directors
IMPORTANT
Please check the NEWS page for all of the latest COVID-19  information necessary for visiting the club.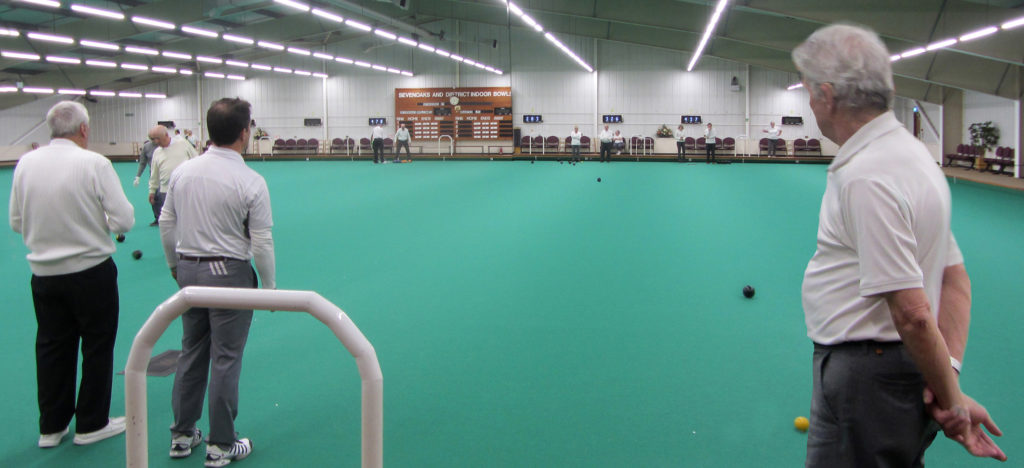 Bowls is a brilliant game that brings together people of all ages in a safe and friendly environment.
Young or old, male or female, fit or unfit? What other sport can be played at all levels?  The traditional image of the game can be misleading – just watch the younger players on television.
At Sevenoaks Indoor Bowls Club you will find complete beginners and those at County and National Competition level playing alongside each other in warm and friendly surroundings.
If you have played before or are just curious please contact the Club or pop in and see us.
SUPERB 8-RINK BOWLING ARENA,
RESTAURANT, BAR, SOCIAL ACTIVITIES